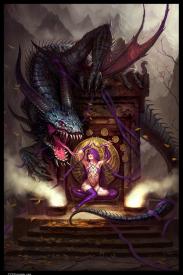 Beyond the Screen Chapter 1
By Dr. Bender

A bolt out of the blue, James was in the middle of DMing for his pals when a magical artefact encountered in the game crosses the boundaries of imagination to draw them into the world of fantasy!
*Warning, trying to keep the DnD jargon down in this story is almost impossible. I'm explaining things as I go for the uninitiated and it should be less of a problem after this chapter.
Beyond the Screen
By Dr. Bender
Chapter 1
It was a typical college Sunday night. Crickets were chirping the night away outside, somewhere in the distance a frat party was raising the roof and tucked away in our quiet little corner apartment, five nerds gathered around a large table covered in pizza, paper, dice, coffee and soda and pretended to slay dragons.
But I guess I better introduce you to the guys first. Contestant number one on my right tossing popcorn into his mouth is Daniel Bronson, aka Sir Tristan Wallace, Paladin of Gozer the Sun God. An Arts and Philosophy major, Daniel took great delight in testing the edges of the Paladin's moral code of ethics (for the uninitiated, Paladins are a type of character that gets power from following the faith an tenets of their gods, who are always Lawful and Good… don't worry, I'll sit you down and talk you though alignment later). Between pontificating upon the nature of and evil as well as wrestling with his own conscious, Daniel also enjoys fertilizing Sir Tristan's garden with the blood of Evil creatures great and small, mowing them down with alacrity using a greatsword longer than he is tall.
On Daniel's right sits Jason Darling-Woodcock, the man with the most unfortunate name on campus, adjusting his glasses. He made up for his name, his lack of personality, his arrogant streak and his chauvinism with an ability to memorize small factoids and follow rules that bordered on godlike. Naturally, he was in Engineering. Our resident rules lawyer, Jason only ever plays Wizards, I suspect because he discovered how unfathomably powerful Wizards are after several days of careful number crunching at some point in his youth. His current character, Haian Nailo, was an enigmatic Grey Elf Wizard (Grey Elves being the variant elf race that gets Intelligence bonuses, thus making them the superior choice for Wizards rules-wise). Enigmatic because Jason didn't bother with things like 'roleplaying' or 'character background', his character purely exists as an avatar through which Jason can kill things with large explosions.
Opposite Jason on my far left is Ryan 'The Duck' Howard, the group mascot and newbie. A freshman still looking for a major, Ryan's portly five-toot-six frame earned him his nickname, spurning the more traditional Monty Pythonesque suggestion of 'The Shrubbery' when it was offered. As the resident newbie, the group had foisted off upon him the job of being the Cleric. It's not that Clerics are a bad class, they have quite a few benefits over other characters, it's that the vast majority of a Cleric's job is being the party medic. When most of your spells go towards keeping the idiot members of your party alive, it's not often that a Cleric actually achieves much else unless there's some Undead around. Alan Wyldmane, Priest of Sharess, was at least a deep character with several pages of background material (bloody freshmen get all the time off, I swear) dedicated to freeing the oppressed and giving charity to the poor.
Standing as he shook a dice in his hand (standing is a sure-fire way of attracting high rolls to your dice) directly to my left was the last player, Thomas Penny. Taking the role of the Thief (or Rogue, as the rulebook calls them, but in Thomas' case his character was most certainly a Thief) mainly because Wizard was taken, Thomas was undeniably in the game for the looting and pillaging. Most parties only manage to cart out of a dungeon the things which are valuable but not nailed down. Thomas' ability to affect means of transportation for things otherwise unreachable to the ordinary player was the stuff legends are made of, as was his ability to talk his fellow party members into some epically stupid situations. His character, Jace Longarm, had a nice background blurb that sketched out his previous life as a Half-elf bastard living on the streets that was at once compelling yet served as a vehicle for Thomas' avarice. Being in IT, he and Jason were alternately best friends and at each other's throats.
Finally, sitting at the head of the table was my humble self, James Wilson, Dungeon Master, Greybeard (an honourable or dishonourable title given to older players by the younger generation) and system administrator for the university network (such as it is) at the ripe age of thirty three. Being, I'm informed, aged and wise I got the job of DM, which I don't believe for a minute. I got the job of DM because I'm the only one with a job that doesn't have to study six hours a day on top of class schedules and I'm a sucker. On the other hand, they did seem rather vehemently opposed to me playing again after our last trip to GenCon (an enormous gaming convention).
"Come on baby," Thomas implored his dice as he shook it, rolling to see if Jace had the skill to disarm the acid trap on a treasure chest, "papa needs a new pair of Boots of Elvenkind…"
He dropped the dice, which rolled into the clear patch of table between the empty pizza boxes and a stack of rulebooks, bouncing off Daniel's glass of concentrated caff… er… Mountain Dew. Our Lady of Averages failed to hear his prayer, however, as the twenty-sided dice landed on a natural one.
"Noooooooooooooooooooooooooo!" Thomas screamed at the ceiling, doing a better job of it than Darth Vader at the end of Revenge of the Sith after discovering that he'd killed the love of his life along with his unborn children.
I did an admirable job of holding in my evil glee. "Well, it's a good job the rest of you waited outside. The chest explodes into a torrent of molecular acid, covering the whole room. Thomas, Jace takes… thirty seven points of damage. You'll also take an extra 2d6 per round as long as you're in the acid."
Thomas made a strangling noise after subtracting the damage from his hit points (hit points or HP being the measure of a character's health). "Oh, shit… guys, I'm down to -2! Ryan, I need a cure, STAT!"
"The acid is also slowly eating through the piles of treasure in the room," I added helpfully.
"NO!" Thomas cried out in a panic. "Ryan! You've got the Ring of Telekinesis, SAVE THE TREASURE!"
Ryan was looking a bit confused and flustered at Thomas's confusion and intensity, so I came to his rescue. "Thomas, you're unconscious," I gently reminded. He immediately fell boneless into his chair and groaned. "I need a beer," he griped.
"No alchohol," I rebuked sternly, "not after the pubic hair noodle incident. What are the rest of you doing?"
Jason finished flipping though the Player's Handbook (the rulebook that guides players in creating and playing their characters. There are companion volumes for the DM's eyes only along with a few expansions) and looked at his fellow players. "I know this is going to sound crazy but we should set the acid on fire."
"WHAT?!?" Ryan shouted as Thomas turned pale and Daniel shook his head in disbelief. I, myself, started to get a headache.
"Look, the acid does 2d6 points of damage per round," Jason explained his 'logic' patiently (2d6 being short hand for two 6-sided dice that give a value of between 2 and 12 when rolled together and a 'round' being about 6 seconds of in-game time), "being set on fire only does 1d6, which is half the damage. Plus, the fire will oxidize the acid faster which will stop it from melting the treasure. Putting a fire out is much easier than neutralizing the acid, unless someone happens to have several hundred pounds of alkaline handy."
I rolled 2d6. "Ok, while you're discussing what to do, the acid does 4 points of damage to Jace Longarm and melts half the gold into a puddle of slime."
"-6, guys," Thomas reminded them, "if I get to -10 I'm toast."
"That's it, I grab the torch from the wall sconce and throw it into the acid," Jason declared.
"The moment I see him reach for the torch," Daniel countered, "I tackle him and try to grab the torch out of his hand."
I gave a long-suffering sigh. "Ok, the two of you roll initiative."
An initiative roll occurs when someone wants to start a fight, to see who gets the drop on who and goes first. Daniel's character, Sir Tristan, won due to his better dexterity and proceeded to tackle the weedy Elf Wizard Haian to the ground where they struggled while their friend dissolved into his constituent atoms.
"While they're struggling," Ryan said, looking through his character sheet, "I'm going to cast an area of effect Cure Serious Wounds that should get Tom… er, Jace Longarm in the area of effect. I roll… a 9!"
"Good thinking," I encouraged. "Ok, Thomas, what's Jace going to do?"
Thomas sat up before speaking, brought back to life by being part of the game once more. "I take out my flint and tinder and set fire to the acid!"
I paused for several moments to take the opportunity to squeeze the bridge of my nose and push the burgeoning headache that was starting to gain traction to the back of my mind. "Ok, you are now covered in burning acid. You now take 3d6 points of damage per round and I roll… 16. You're dead, Jim. Oh and the treasure is now nothing but a puddle of goo."
Jason tried to pipe up as Thomas stared daggers at him. "Wait a minute, the fire should burn off the acid!"
I ticked points off on my fingers. "Number 1: the acid wouldn't burn off that quickly. Number 2: acids aren't flammable by themselves but I'm assuming that some form of by-product from the chemical reaction is producing a flammable gas, like Hydrogen, in small amounts. Number 3, would you much rather such a byproduct was being given off in copious amounts, thus producing an effect much like a fuel-air bomb…"
"No-no," Jason quickly recanted, "your ruling is fine and fair!"
And that, dear friends, is how you deal with rules lawyers. Turning the page, I quickly glanced through the items in the treasure horde. "Oh, wait, there is one thing left. Once the fire goes out, you notice a glowing gemstone amidst the sludge."
Their spirits appeased after the loss of their hard-earned loot, the party decided to wait for the acid to neutralize by itself before retrieving their comrade's corpse so that Alan Wyldmane could use one of his Resurrection Scrolls to bring Jace back to life (a Scroll being a magical item that has a one-use spell written on it, useful for when you need a spell beyond the level of your character or as back-ups so that you don't have to use your character's memorized spells that have a limit to the number of times you can cast them per day). While Alan and Jace were busy, Sir Tristan and Haian considered the glowing red orb on the floor.
"I make a spellcraft skill check to identify the orb… I roll 47."
I muttered something under my breath behind the DM's screen (a cardboard partition that conceals the DM's gaming notes, rolls and assorted swearing at the stupidity and mary-sueness of players from the players themselves). "No matter how hard you try, you cannot identify the item through either mundane or magical means. Its name, purpose and intent seemed to be obscured through occult means."
"Oooh," Daniel cooed, enraptured, "might be an artefact!"
I must apologize at this point for the large amounts of jargon. Artefacts are powerful magical items that throw spice into games by deliberately breaking the rules. Each is unique, powerful, and usually a complete pain in the ass for DMs and Players alike. This doesn't stop Players from coveting them, mainly because players are incorrigible, relentless, aquisitionistas. Yes, I had to make up a new word to describe the depths of greed to which Players will sink. Mammon is an amateur, Adventurers are the professionals.
"I'll pick up the orb," Jason said.
Nodding, I began to read out the appropriate passage from the dungeon's text. "Red mist swirls inside the gem for a moment before coalescing into the image of a burning eye…"
"Original," Thomas muttered. I glared at him before continuing.
"…the stonework shakes and trembles as the malign intelligence beyond the depths of the jewel turns it's gaze upon each of you in turn. After a moment of fearful tension, a deep voice speaks…"
"GREETINGS MORTAL VOYEURS OF THE OUTER REALM, YOUR FOOLISH TINKERING WITH FORCES UNKNOWN IN YOUR CONTINUITY HAS BROUGHT MY PRESENCE FOURTH."
The deep breath I'd taken stuck in my throat as the booming voice hailed us from the thin air over our table. We all froze for a moment, looking at each other in fear and confusion.
"Er," I coughed and smiled when nothing more was said, suddenly feeling sheepish, "all right, where's the CD player?"
"I AM NO PRE-RECORDED MESSAGE," the voice growled, an inky black stain beginning to bleed into the air from the point it issued from, "THE LEFT EYE OF THE ELDERS SEES THROUGH THE BARRIERS OF CONCEPTION. ALL YOU CAN IMAGINE IS. WHAT YOU IMAGINE EXISTS OUTSIDE YOUR CONTINUITY, YOU MERELY PEEK THROUGH THE BOUNDRIES AS I DO TO FUEL YOUR PETTY GAMES."
I blinked and discovered that I was standing, perhaps unconsciously trying to look into the expanding cloud over the table and talk to it 'eye to eye'. I slapped Daniel's hand down when he tried to reach out and touch it, not wanting to risk that he wouldn't be pulling back a stump. The other four were staring at it in a mixture of wonder and terror, I can only attribute my clear head to being so deeply in the mindset of the game that the internal sanity buffers that usually protect me from player's decisions kicked in and saved me from going mad.
"What do you want?" I asked, sounding braver than I felt.
"LIKE YOU, I LOOK UPON OTHER WORLDS TO EASE THE BURDEN OF EXISTENCE. IT AMUSES ME TO CAST THOSE SUCH AS YOURSELVES INTO THE PRIME MATERIAL PLANE FOR MY SPORT."
I gulped. To explain, DnD has a whole cosmology based around the worlds that we bring to life through our play. It's best to think about it like an onion, though this is a gross oversimplification. The centre of the DnD cosmos is the Prime Material Plane, which contains worlds that we would consider more normal except for the existence of magic. Beyond that you have other planes of existence: positive and negative, the four elements and the 'great wheel' which is divided into realms such as Heaven, Hell and even less savoury places.
"ENTER THIS COVENANT WITH ME AND I SHALL WATCH OVER YOU IN THE OTHER WORLD, GIFTING YOU WITH POWER BEYOND YOUR WILDEST IMAGININGS. OR REFUSE AND SPEND THE REST OF YOUR DAYS LANGUISHING IN THIS BANAL EXISTANCE."
Jason stood up, his eyes suddenly alight. "Power? You mean, like magical power?"
"IF THAT IS THE CHARACTER YOU WISH TO PLAY…"
"Wait," Thomas stood up as well, "you mean we get to pick who we are in this other universe if we go with you?"
"ERRR… YES."
I wasn't sure if the booming voice suddenly sounded unsure of itself because it was unused to being interrupted or if it simply wasn't expecting such an enthusiastic reaction.
"TO AN EXTENT," the voice quickly added, "THE CHARACTER MUST BE AN ORIGINAL CREATION."
"Yes!" Daniel exclaimed, leaping up to give Thomas a high five.
"Wait a minute, guys," I said, trying to break the three dunderheads out of their rapture, "use your brains for a minute. I'm older and nobody will really care if I up and disappear. You all have parents, family and friends."
"I'm going to get real magic, hot elf chicks, magic swords and everything demotivational posters said I wouldn't ever have," Jason replied, "screw 'em."
The other two enthusiastic idiots nodded in agreement.
"You might also get to know what it's like to be doused in burning acid," I rejoined.
Jason frowned, his thoughts wandering. "Maybe I can create a Wall of Powered Soap spell…"
I gave up and turned to Ryan, my last hope for sanity. He sat stunned, staring at the character sheet that lay on the table before him. "Ryan?" I called to him gently. He broke out of his reverie immediately. "What? Wait! Wait, we're not leaving," Ryan cried out in a panic, "I haven't decided which character I want to be yet!"
My last hope crushed, the disembodied voice laughed as the black cloud expanded, engulfing the room in the darkness between worlds.
---
If you liked this post, you can leave a comment and/or a kudos!
Click the
Thumbs Up!
button below to leave the author a kudos:
And please, remember to comment, too! Thanks.
This story is 2937 words long.