The Training Bra Times
Written by and for Boys Who Want to Wear Training Bras
*** Reviews and Advice ***
*************************************************
YOU WRITE – WE ANSWER
Dear Training Bra Times
Ia m so happy! I went to the doctor and he said I have gynecomastia. My mom says I have to start wearing a training bra and she said that she heard about The Training Bra Times and said that I should write to you guys for advice. She said that its very important that I get one that is just right for me. Can you help me pick out my very first bra? Mom says she will go to the store with me and will buy me whatever I need or want.
Greg – Baltimore, Maryland
Dear Greg,
Wow! All of guys here at The Training Bra Times are so happy for you and a few are quite jealous! Gynecomastia and a mom who will let you wear a training bra and will buy one for you! Wow!
Gynecomastia is a great blessing and don't let anyone tell you otherwise. Your budding is a great gift that very few boys get to experience. With that comes the wonderful experience of getting your first bra. The fact that your mom will go with you to buy your very first training bra is so wonderful.
Your mom is so right that to you have to wear a training bra because you have started developing. Wearing a training bra will help to reduce any itchiness you may have and will help reduce irritation. Plus a training bra will help to support you as you grow. These important functions are the reasons why any boy with gynecomastia has to wear a training bra.
Of course, at The Training Bra Times we like to go beyond that and say that wearing a training bra can help with any of those issues even if a boy doesn't have gynecomastia!
By the best reason is that wearing a training bra is just plain old cool!
| | |
| --- | --- |
| | All that said, we wanted to tell you about a really swell training bra that you might want to get as your first bra. It from our favorite company, Teenform, and its called the Preview. Because the Preview features Teenform's gro-cups and comes in sizes from 28 to 36, it will grow with you as you blossom from AAA cup to AA cup. The broadcloth sides and back help prevent any riding up and chafing under your arms. Plus, the straps are adjustable making it a bra that will adapt to your changing figure. Oh, and you'll just love the little flower accent sewn between your bra's cups. Attention mom, you'll love the fact that your son's new bra will be machine washable. Buy him several so that he'll still have one to wear as his other bras are drying in the warm sun on the clothes line outside! |
And of course, even if you don't have gynecomastia, we think its the perfect training bra for any boy who wants to wear a bra, because wearing a training bra is not only a physical need but an emotional one.
So Greg, tell your mom that you want her to buy you a Teenform Preview. You won't regret it. Happy bra wearing!-- Robby, editor, The Training Bra Times
LETTERS EXTRA:
Dear Robby,
I found the ad for your paper in the back of my April issue of Batman and Robin Comic book and I thought it had to be a joke or some kind of a trick. I thought there is no way this is real but I sent away for your newspaper and was surprised to get my first issue a week later. I couldn't wait to read it and after I did I was even more surprised to find out there really are other boys like me because I have secretly been wanting to wear one ever since my older sister got her first bra. After she walked around the house puffing her chest out acting so mature and superior and looking down on me like she is a grownup and I am still a little kid because she wears a bra. It made me so mad because she is 12 and can wear a bra and gets treated different cause I am only 10 and can't wear a bra. It's not fair! Then I read your answer to Mark's letter and the story about the TeenForm training bra and since it was only two dollars I took your advise and got two of them one has a blue bow and one has a pink bow.
I really love wearing them I wear one everyday they are comfortable and make me feel more mature and confident like my big sister. My real big problem is that when I wear my training bra under my Little League uniform it makes me throw different. My coach says I throw like a girl and my teammates laugh at me and tease me, except for my friend Steve he said I looked kinda cute and that made me feel happy. The coach says if I don't get better at throwing I'll get cut from the team not that I'm that good or like baseball that much anyway. I don't want to stop wearing my training bra and I font want to get cut either I would miss my teammates especially Steve. Does anyone else have this problem is there a secret to throwing wearing a training bra what can I do?
Please help?
Your friend Teri in Teenform in Springfield Mass.
PS. I was also wondering if TeenForm makes or will make any training bras in any other color than white. Maybe you can ask them to make some other colors like the pastel pink, blue, green, and yellow. My nylon tricot Days of the Week panties come in they are so pretty and have real pretty white lace around the waist and legs, that would be great!
Dear Teri
Welcome to The Training Bra Times. The guys here are happy to help you.
No matter what your sister may say or do, you have every right to wear a training bra like she does, even at your age, which is the perfect time to start!
Its great that you are wearing your training bra under you little league uniform. The reason that you are throwing differently is because wearing a properly fitting training bra is actually helping your posture. The reason the other boys are teasing you is because they are jealous, because you are now a really good player since you have built up confidence in you as a result of wearing a training bra. Remember that your need to wear a training bra may not only be physical, but is deeply emotional. As to throwing like a girl, there's nothing wrong with that! So keep up with the team.
Your teammate Steve is a good friend to have. You never know, he might also be wearing a training bra. Look for tell-tale signs like his bra straps.
| | |
| --- | --- |
| As as for as feeling confident and mature as your sister does, a training bra is a most excellent way to go. To be right up there and challenge her superiority, the boys here all recommend that a perfect way to go is to get the bra that she is probably wearing as a beginner bra, the absolute top of the house, the Teenform Pretty Please. There are three really good reasons we recommend this. Junior staffer Stephan immediately brought up the fact that this the best training bra he wore when he was a just a AAA cup. With its nylon elastic gro-cups it will fit you perfectly and feel great. Jimmy pointed out that your sister probably has one just like it, so you can show her that you can wear the exact same bra. Finally Andy said that even if she doesn't have a Pretty Please you can go 'nyah-nyah' at her because you are wearing the best training bra anywhere. Plus, I want to point out that it comes not only in white, but also pink, blue, and yellow as you can see from the picture of the one that Stephan started out with. | |
Finally, when you progress up to a AA cup you'll find styles like the Teenform Berry Patch! Its just too cute for words! Best thing is that you can get matching panties and a matching slip to go with it!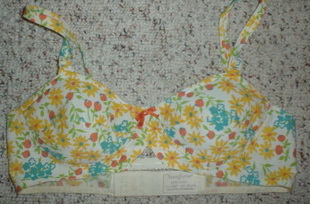 We're all so glad you found us. Keep wearing your training bra, Teri! - Robby, editor, The Training Bra Times
BE SURE TO SEND IN YOUR QUESTIONS AS YOU REVIEW THIS ISSUE!
*************************************************
A WORD FROM Kmart
Hey mom!
If you're looking to buy your son his first bra, then look no further than your local Kmart!

Kmart has his first bra! Designed to give him the right amount of support amd comfort as he develops. The all feature stretchy cups that expand to meet his figure changes. Check out these styles today. Your son will love you for it!
*************************************************
TRAINING BRA REVIEWS by ANDY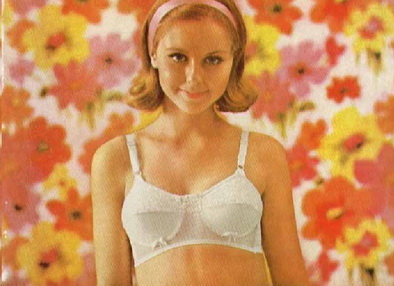 Our junior staffers Jimmy and Stephan are off scouring the mall for some new beginner bras to wear (and looking for girls), so I had the chance to try the Teenform La Poufette set which includes not only a really pretty bra, but also a slip, panties and pantygirdle
This bra is just wonderful. If you are like me and are now a AA cup and soon to be an A cup (I hope I hope!) you will find the La Poufette to be super neat. It has lovely cotton cups with just a hint of fiberfill that looks super dreamy when I wear it, but the one thing that made me fall in love with it is the little bows below each cup. It fit like a dream, and while it was a bit showy under a t shirt or other shirt, I really didn't care. I got a lot of winks from the girls at school the day I wore it.
But the coolness doesn't stop there because the La Poufette is a whole set featuring not only a bra, but also a slip, panties, and an pantygirdle.
| | |
| --- | --- |
| Let me tell you guys, slips are wonderful. They are so silky smooth and feel just yummy. The La Poufette slip has a lovely lace accent around the bottom. If you have been brave enough to wear a skirt, you just have to wear one of theses slips | |
| | But even if you haven't worn a skirt, yet, you can experience that silky smoothness with the La Poufette panty. Its a full brief, but has lace around the leg openings. You'll feel so good wearing these panties as they are wonderful at relieving the scratchy of a pair of rough denim jeans. And they feel great under our Pjs at night. |
| If you are super adventurous, you'll want to try the pantygirdle. (Hint – get a pair nylons to go with it as it has garters). I wore the panty girdle, along with nylons and the matching bra, around the office here at The Training Bra Times last week and found it to be very comfortable. The rest of the boys were all jealous at how flattering it was and the fact that it actually gave me curves! | |
I wore both the La Poufette bra and panties while playing wiffle ball and it didn't bother me at all. In fact, it felt so good I actually hit a home run!
Now the whole ensemble is a bit pricey, but you will be so pleased. I highly recommend that you give La Poufette a try.
NEXT TIME: A BASIC BRA TO WEAR UNDER (YUCK) BOY'S CLOTHES
REVIEW EXTRA: The Girls Restroom
A reader rightly pointed out that there may be some riskyin using the girl's restroom at school. At the Training Bra Times, we all agree. Be very very cautious and never do anything that might put you at risk or in harm's way. Also, please do be careful about flaunting your training bra wearing as there are not nice people out there. Never every let anyone do anything to you that makes you feel uncomfortable or inappropriate. And if its one thing that your mom did say that was right, never talk to strangers. Follow those reules and you'll have a really fun time just being a boy in a training bra!
*************************************************
THIS ISSUE SPONSERED BY J C PENNEY
Make his first bra a Carol Brent!
Dancing Doll with embroidery on sides. Expandable Helanca stretch nylon cups. Plus – it comes in sizes to fit all boys from those just starting out at AAA cup through AA cup up to lucky boys who are A cup.
*************************************************
NEXT TIME: A letter – from a girl!
Till Next Time!
---
If you liked this post, you can leave a comment and/or a kudos!
Click the
Thumbs Up!
button below to leave the author a kudos:
And please, remember to comment, too! Thanks.
This story is 2148 words long.