The Training Bra Times
Written by and for Boys Who Want to Wear Training Bras
*** Reviews and Advice ***
*************************************************
YOU WRITE – WE ANSWER
Dear Training Bra Times
Wow – I am super happy. My boobies are growing! The doctors says I have gynecomastia and not to worry. But sometime they itch. What can I do. He say he can't really do anything about that, but I bet you can help.
David – Seattle, Washington
Dear Training Bra Times
My sister's boobies started growing and she got a training bra. I am super jealous. Is there anything I can do to make my boobies grow so that I can get to wear a training bra too like her?
Ricky– Dallas, Texas
Dear Training Bra Times
My boobies started growing since I started wearing training bra. At first I was just a AAA cup and started wearing training bra for fun, But now I am a AA cup and want to be able to wear a full A cup like the girls at school. Is there anything I can do to make my boobies even bigger
Matt – Lincoln, Nebraska
Hey guys!
Three seemingly different issues, but all very much the same. First thing though, because we are polite, we don't call them boobies. They are our breasts and we are to be proud of them. Also, NEVER us the T word!
That said, your buddies at The Training Bra Times are here to help you. There is one simple solution for all three of you. Wear a training bra! There is no simpler more effective way to encourage growth than that. Plus if you keep a positive attitude, you will see growth!
So lets talk about the ways wearing a training bra can help all three. First, for David in Seattle, wearing a training bra with eliminate any discomfort or itchiness you may feel. A training bra will help hold everything in place and contribute greatly to giving a proper shape to your bust. You don't want to look all saggy do you?
Now to Ricky. Ricky, you don't have to wait for you breasts to start to grow to begin wearing a training bra. You can start today. A good beginner bra can help you find the peace inside to get yourself in the right frame of mind to start developing. You'll feel so much happier the minute you try on your first bra, no matter what size you are today.
As to Matt, well, you are one of the lucky ones. You are proof that wearing a training bra is a boy's quickest way to healthy happy development. So keep on wearing a training bra and you'll soon be a nice soft A cup (or maybe even bigger!) before you know it
| | |
| --- | --- |
| | For all three of you, we'd like to recommend the Teenform Bra-o-Mine (style P123) because it comes not only in a AAA cup but also AA and A cup sizes. So for each of you you'll find it to be the perfect bra as you advance in your bust size. The Bra-o-Mine has a lovely embroidered pattern the cups that will look sweet on you and a dainty bow between the cups. The sunburst stitching will help with shaping as you grow |
One last thing. It is important to remember that your breast size is as individual as you are. Don't compare your development or even how fast you develop to the girls you go to school with. If you stay positive and keep wearing a training bra your hopes and dreams will all come true. There is no one else in the whole world like you and because you are a boy who wears a training bra, you are extra special! -- Robby, editor, The Training Bra Times
BE SURE TO SEND IN YOUR QUESTIONS AS YOU REVIEW THIS ISSUE!
*************************************************
A WORD FROM ONE OF OUR SPONSORS
Hey boys! If you been waiting for the right moment to buy your first bra, then wait no more. Check out this big sale a G C Murphy's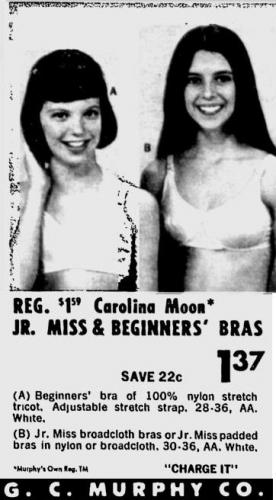 Save on Jr Miss and Beginner bras at G C Murphy
*************************************************
This time around we took junior staffer Stephan to Stepman's Department Store for his first bra fitting. This is how it went.
STEPHAN: Well, Andy, initially I was a bit afraid about being fitted for a bra. Even though I've been wearing a training bra for quite a few months, I never thought about getting fitted. Well, my fears were soon put to sleep. Mrs Goldberg, my bra fitter is a sweet lady who truly understands that sometimes boys want to wear training bras too. She lead me back to a little room and had me take off my shirt. I was wearing my "Your First Bra" by Young Scene (style 380) that we reviewed a few issues ago and I stole from Andy (hahaha). She commented on it and said that it was very nice and that a lot of boys my age wear the same style. She then she had me take it off. It felt odd to be standing there without my bra on, since I have gotten so used to wearing one.
She asked me what size bra I currently wore and I told her a 32 AAA cup, Mrs Goldberg pointed out that a lot of boys that come to her for fittings are wearing a AAA cup. She then got out a tape and measured me. She told me that I was definitely a 32, but she had a big surprise for me. And what a surprise it was. She went out into the store and returned with a big smile on her face as she congratulated me on graduating to being a AA cup! With that she handed me a Bestform Seamless Bra in 32 AA!
(click on the pictures for detail)
I was shocked. My training bra wearing had actually help me to achieve a new cup size. Mrs Goldberg helped me to put it on and I was over the moon at how good I looked wearing it. It has just a wee bit of fiberfill padding in the cups which is okay by me and is as soft and comfy as a dream.

Its a bit pricey at $2.98, but let me tell you guys, any bra that we can wear that makes us look this adorable is worth it.
ANDY: I have to tell of you that Stephan had a grin from ear to ear as we walked home from Stepman's store, proud of his new cup size and proud to be a boy wearing a training bra.
Plus, I have to tell you that a few girls read The Training Bra Times, and Andy has gotten quite a number of fan letters from girls who think he must be the cutest boy anywhere, and that they would to have him as their boyfriend so they could be wearing training bras together! Lucky Stephan!
NEXT TIME: THE 'PRETENDER' FROM TEENFORM
*************************************************
THIS ISSUE SPONSERED BY TEENFORM
Look Mom! He's a Teenform (and you can click on the ad to see it)
Understanding mothers will give him the physical and emotional support he needs at this time. Teenform's 'understanding' bras, panty girdles, and delightful sundry 'inti-mates' help him meet the challenge of growth ... beautifully. Shown, our 'Littlest Angel' beginner bra, that grows as he does, $1.50 at leading preteen departments.
For your free informational booklets, 'The Understanding Mother', and for boys 9 to 15 years old 'Very Special Secrets' write to Teenform, Dept M42, 112 West 34 Street, New York, 1, New York
Be sure to mention The Training Bra Times and your booklets will be shipped to you in an envelope marked Acme Baseball Card Company.
Teenform – Specialists for His Formative Years
*************************************************
NEXT TIME: Your Sister's Training Bras?
Till Next Time!
---
If you liked this post, you can leave a comment and/or a kudos!
Click the
Thumbs Up!
button below to leave the author a kudos:
And please, remember to comment, too! Thanks.
This story is 1297 words long.