---

Gene's Story
or How I Gained a Cousin


A novel by Karen Lockhart

Copyright© 2016 Karen Lockhart
All Rights Reserved.

---

 
---
It's funny how things happen to change your life and the way you look at things
---
CHAPTER 70
The day dawned sunny, perfect for driving to go shopping.
Over breakfast, I asked Ginny if I had a proper dress for the theater.
"It's at the Shubert Theater; let me take a peek into your closet to see what you have. Do you want to be hot and sexy or just hot?"
"Just look, you know fashion better than me," I responded.
She was back in no time, "Ellen, you have a hot, hot LBD, a business suit and everything else is ho-hum. You need a dress."
At ten we headed for the Bloomingdale's store in Burlington. With the Christmas returns, we ended up parking a long walk from the store, but the weather was nice, and the temps were in the forties.
Once inside we asked directions to the ladies department, and once there, we gave all the clothing a good going over, looking for sales. I found a little red dress, with spaghetti straps and sequins on the bodice. It came halfway to my knees and there was a slit in back to allow walking up stairs. It was perfect for the theater. Ginny fell in love with it.
"Here you go Ellen, now to find you a pair of four inch heels."
Ginny was determined to find a gown before buying anything else, and found the formal dress section. We looked at a few floor length gowns in silver gray, and red. She was determined to find a long black gown.
I got the attention of a sales assistant who walked right over to a black Halston dress that ended about eight inches from the floor. The neckline was perfect, it was sleeveless, with a long side split. What made it different was the chain trim at the shoulder strap and the side split.
I went with Ginny to the fitting room and helped her step into the dress. Unbelievable!
It fit her like it was custom tailored. We stepped out for the sales girl to have a look and the expression on her face said it all. She suggested a black open-toed sandal with an ankle strap and five inch heels. She quickly measured Ginny's foot and brought out a pair for her to try on with the gown.
While Ginny was walking back and forth, the sales lady found me a pair of red pumps matching my dress's color perfectly. As Ginny was walking, a husband and wife went by. The poor guy ran into a display, he had his head turned so far.
Ginny came back and giggling said, "I passed the man scan, I bet his wife is still giving him what for."
Her shoes cost more than the dress. The Halston was $450, the Jimmy Chou's were on sale for $600. My LRD was only $125 and the shoes were $100.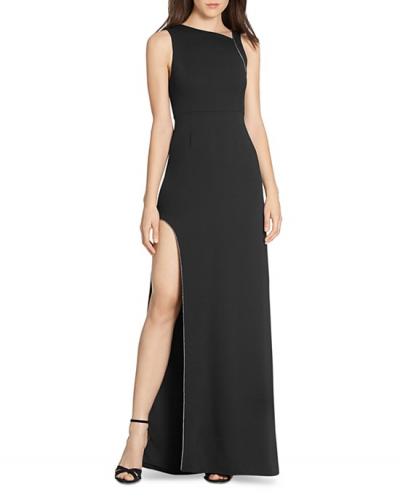 This is the Halson Heritage Ginny bought
We headed home, stopping at Kelly's for roast beef sandwiches and fries.
Over supper, I told Ginny I was going to call Steve and clear our schedule with him. In order to have a vacation during show season, I was planning to have Steve lay us off for half of January and the month of February. That way we could apply for unemployment. Ginny was aghast at this.
"I'm not going to have you lose thousands of dollars just to hold my hand. For every week you're out of work taking care of me, you'll get $1000 of Vinny's money tax free, just like it was for him."
I knew this was a battle I couldn't win, so I nodded okay as I put the dishes in the dish washer.
"You know, I had forgotten about that cash reserve of yours. Don't waste it, it will only happen once, then it's back to macaroni and cheese for supper."
On Sunday the Patriots played their second to last regular season game, a win this time and a win next week and they'd have home field advantage during the playoffs. A loss, and two Denver wins, would give Denver home field advantage.
I needn't have worried, the Pats beat Cincinnati by two scores 34 to 20; all they needed was a win next week over Jacksonville.
When we got to the field office on Monday, I called Steve at the Lynnfield office and told him Ginny and my schedule for the next two months. I thought it would coincide with the revised construction schedule, so we wouldn't be a burden on him too much.
He laughed his head off, "A burden on me? That's the first time I heard that in thirty years. Can you afford to go six weeks without pay?"
"Yes, I went over my finances and I'll be fine. No new Cadillac Escapade this year though."
Steve roared, "You and me both girly, you and me both."
I bet he heard me grind my teeth over the phone, as I mumbled "girly huh,girly."
Ginny was giggling her head off watching the expression on my face, and trying not to make a sound that Steve could hear over the phone.
Wednesday came in no time. Ginny was a nervous wreck, licking her lips constantly and pacing back and forth in the office for the last day. We left work at noon for home and I made her drive, figuring this would take her mind off her date with Kevin that night.
At home she went in and had a bath with lavender bath soap, and shaved her legs for the second time in two days. She came out and put on her black lacy panties and bra set. Then she rolled a nude stocking up each leg, fastening the clips on her garter belt to keep them up. I walked in her room to see if I could help. She gave me a horrified look.
"Put down those lipsticks, and stand back, you're not touching my face!"
That got me laughing so hard I peed a little.
She finished her makeup and wow! Ginny did herself up for clubbing with heavy eye shadow that tapered like a cat's and more mascara than I would use in a month. I had her sit on the edge of the bed while I helped with the shoes, fastening the buckles at the ankles. I held the gown open steading her on her heels so she wouldn't get snagged on the dress's lining. Finally I zipped it up and did the button at the top.
"Ginny, you'll need help getting out of this," I said.
"You can count on me getting help," Ginny snickered.
Just then the doorbell rang. "I bet that's Kevin, Ginny you wait and make an entrance."
I let Kevin in, receiving a New Year's kiss on the cheek. I then called Ginny and stood back to watch his face as she came around the corner. His jaw dropped and he kept making these funny sounds.
She walked right up to him and planted a kiss that had me squirming. Kevin's knees bent, and I thought he was going to faint.
"You kids ought to go before it's too late. Have a nice time."
They gave me the funniest looks as they went out of the door.
To be continued for two more chapters.
Many thanks to Bronwen Welsh for her help in correcting typos and encouraging me during the writing of this novel
---
If you liked this post, you can leave a comment and/or a kudos!
Click the
Thumbs Up!
button below to leave the author a kudos:
And please, remember to comment, too! Thanks.
This story is 1260 words long.