Monday 24th August
I was ready for a relaxing morning but that wasn't to be. At seven my phone rang and Sophie reminded me I should do a run, seeing as I'd missed the previous two days. Her and Heather were getting ready and would head back after breakfast.
Reluctantly I looked for a clean pair of running shorts but they weren't anywhere close. My case had been packed and I wasn't about to chuck everything out! Near the top, however, was a short white skirt that would do.
I've never run in a skirt before and hadn't suspected it would flounce like that, perhaps I should have chosen my undies better but I'd left just one, matching, bra and knickers set ready for the day. They were bright red and and clearly visible although I hadn't realised it at first.
Being a Bank Holiday Monday I wasn't expecting to see many people but a some cars went past and a few wolf whistles were heard, I didn't think they were for me. It was as I was coming past the shops I could see my reflection, including repeated flashes of red lace. I came to a halt.
Using a window as a mirror I tried to tug the skirt down and tested knicker visibility but it was fine, I was only flashing when I ran. I opted for a slow jog to get back to the cottage, but must have pushed myself a little too hard since, as I reached the cottage door, there was a deafening whistle from a lad on a bike. I was glowing almost as red as my lingerie as I walked in.
Suzie was up and showering so I took the moment to deal with a personal matter, although I was interrupted by a towel-clad sister who looked shocked. I told her I got no pleasure from this but she wouldn't believe me. I gave up and took my own shower. One task this morning was to dye my hair a darker shade, close to my original auburn. I would also ditch the large black sunglasses and had a smaller gold frames pair to use. It reminded me of those 60s spy movies! Of course, I had to find more undies but I put the short skirt back on, teasing was allowed even if flashing was frowned upon.
With breakfast out of the way I went through the cottage looking for any of my bits and pieces. I was flying as Beccy in order to hide my travels over the summer. My amazon account had been used once or twice by Pru to order some more lube ready for my return with instructions to leave the package unopened in my room.
Dave sat down with me and went through a summary of the past two months, glossing over the surgery. I received a pass for my use of the alias and a shake of his head for my media attention. There was no fallout from that, none yet anyway, and Beccy was now a fully developed girl.
Dave was flying with us so had his own preparations to do, nothing as complicated as mine or Suzie's. Jo came over and promptly found one of my swimsuits that I'd missed. I was leaving the original bridesmaid dress, the one I didn't wear, but taking the one I did wear. I left two summer frocks and the cerise suit, just in case. September was upon us in a few days and whilst Cornwall enjoys a summer through late September, the Highlands go into autumn at the beginning of the month.
Heather suggested I came back for a few days just before university, maybe I could get away with a weekend bag? There was no plan, no hard and fast dates, just an idea that may not happen.
We had an early lunch, eating in the garden as a grey cloud wandered across the vista, a rare sight indeed although I'd encountered several storms over the preceding weeks. We'd just cleared everything away and it started to rain. A typical Bank Holiday Monday.
Jo drove Dave, Suzie and myself to the airport and I picked up a newspaper, the Western Morning News. Just inside was a report that Sergeant Underwood had resigned from the police instead of facing disciplinary action. I'd been told he would be cautioned for the offence of not quite hitting me and that was acceptable under the circumstances. There was a photo of him in the company of two constables taken on Friday, I'm told it was page three news on Saturday but no-one bought a paper.
We boarded on time and hassle-free, I sent mum a text to confirm we were on our way then turned my phone off. She hadn't phoned over the weekend so it looks like Suzie was keeping my activities to herself. I told myself I wasn't ashamed, I liked Daniel and it felt right even if it was effectively the end of the relationship.
I'd told myself I didn't want a flash-in-the-pan wham bang thank you ma'am relationship but was that what I'd had. The break-up was difficult but I knew he'd find another girl without any trouble, just not whilst I was still in the area!
I had a smile on my face as I pondered this and Suzie queried if I was thinking of a certain boy? I confirmed her suspicion, there was no point fibbing.
We landed at Glasgow just before five and took the shuttle into the city. It was too late for Dave to get a train to Thurso and I'm sure he had no interest in bridesmaids' dresses but he was stuck for now. We met with mum and Suzie at the hotel and that's when the interrogations started, as well as questions about the length of the skirt. I was tired and not really too responsive so asked that we had something to eat then I was going to bed.
Mum was not happy with this but Suzie yawned in moral support so the battle was lost. Angela just kept looking at me strangely, what was she thinking?
Tuesday 25th August
I found out at breakfast that Dave had taken the sleeper service and was due in Thurso within the hour. Our first task was to take our cases to Glasgow Central and leave them in the luggage store then we trotted along to the bridal wear shop for our nine thirty appointment.
Once again we were changing in one large space but now I caught Angela looking at my knickers and being very embarrassed when I put my hands in the way. It looks like she thinks of me differently now, but I don't know how to resolve it, although Suzie might be a help. In many ways I was now closer to Suzie but I'd spent eleven days with her and there was another week to go. I'd also slept with her and had been caught by her in awkward positions more than once.
I hadn't seen Angela for two whole months and we hadn't spoken often either. When I'd flown South I was physically at the same stage as her, with question marks over my surgery. Two months later I'm post-op and fully healed, plus I've had a test run. I really hope she gets what she wants but being jealous of me is not going to get her those two signatures.
The fitting went ahead without a problem, mum's dress is something else! It's an ivory halter neck dress, simple but elegant and damn sexy. Suzie, Angela and I are in lilac and a A-line design. The shop arranged to deliver the frocks and mum settled the bill, a ridiculous amount of money.
We went for a coffee and a bun before dealing with the small matter of lingerie. Angela didn't get this part, she told us that it was irrelevant because no-one would see it. She looked at me and said at least it fitted me better but I wouldn't have a boy removing my undies to have his wicked way! I went crimson, Suzie started to giggle and we had to leave the shop.
Mum wasn't certain what to ask, despite her lecture she hadn't expected this revelation. Standing in the middle of a shopping mall is probably not the best place either so I went in search of a loo while attention switched to another daughter. I could hear Suzie starting to tell an abridged version of the story but I wasn't bothered. Angela came running after me but there were already a few girls in there so that, was that.
Mum was not happy, I guess she'd looked up recovery times and I'd blown a hole in her preconceptions, but it was a pointless argument, the deed was done. Yes, I had used protection, yes I'd used lube and no he did not force himself on me. I wanted the subject dropped so I looked at mum and asked her about her first time. She spluttered, went red and shut up. Deuce.
We went back into the lingerie store and I went for a lacy Wonderbra, Suzie agreed with the cleavage decision and did likewise, Angela wasn't comfortable and claimed her existing undies would be adequate. Mum disagreed but wouldn't push the subject. This was going to be Angela's first stint as a bridesmaid and my third, but I had absolutely no idea first time around so relied on advice. If Angela loosens up then maybe she'll start to enjoy the experience for what it is, over to Suzie for some sisterly support?
The wedding and reception were to be held at Elsie's but she was now somewhere in the Pacific so would miss the day. I felt sorry for her, but she needed the break and Helen needed to mature.
We managed a bite of lunch and caught the one o'clock service to Inverness, hopefully getting a connection onto home. I had a copy of the Scotsman, the first since I flew South and buried my head in that. The economy was doing remarkably well considering all the pre-election predictions that were more spin than substance. The Scottish political scene did need to be taken with a pinch of salt at times, with posturing being more prevalent than actual workable policies.
I also had the script for a stage play to learn although it was touch and go whether the battery in my tablet survived the journey; this train did not qualify for power outlets by the seats.
I managed to get an internet connection at most of the stations on the route and one of those solicited an email from Jeri. She had been briefed about a Year 11 boy who was going to transition from the start of Year 12. The only problem, Year 12 started in two weeks and decisions still had to be made.
I wondered why I'd been sent this information, I wasn't at the school any more. The answer came in the last paragraph, could I meet the student and her parents. That would have to run past mum, did she know? Now was not the time, we were surrounded by other passengers.
We pulled into Inverness and were delighted that one of the helicopters had just done a drop on the outskirts of the city. A taxi took us to the landing site and we were home forty five minutes later, not two hours!
Thursday 27th August
Preparations for the wedding were taking over from all other work, but at times I felt like a spare part. I had several jobs I needed to do, the first was to pay a visit to Caithness Maritime. Suzie declined accompanying me, she didn't want anyone to make the connection.
Dave Brown was staying for a few more days and was conducting a review, again. What was different about this visit for me was what I was shown. It seems that my security clearance has been upgraded as a result of my Cornish experiences and the training beforehand. That meant being given the safe access combination and then the code for the security box within. There were two pistols, both 9mm and a hundred rounds of ammunition plus two full clips. That meant, to me at least, that they hadn't been fired.
It was explained that they were not for use unless exceptionally authorised and then purely for defensive purposes, that's a difficult concept for a nearly-nineteen year old girl so I left it alone. The nearest range I could re-qualify on was probably Scapa Flow but my guess was that it would be incorporated into a trip to London or Cornwall.
I also had to deposit all of Beccy's documents in the safe, after creating a checklist. Beccy's phone was not part of official equipment and I was asked to be sensible about any interaction with my summer friends. My argument was that I couldn't vanish off the face of the earth and suddenly reappear six or twelve months later without the occasional communication.
Both of the firearms licences went into the safe and I was pleased to just have my own documents and not any others. Of course even Tammy was an alias of sorts, but I'd been Tammy for years, even if almost no-one knew about her before last autumn.
One thing that was very clear as soon as I arrived home, it was at least ten degrees cooler than in Cornwall, thankfully I hadn't flown all the way here in that short skirt and top. I don't know how she managed it but Tanya found out about the surgery, and Daniel. John was shocked, he had known Tom better than anyone.
I managed to see Dr Adi this morning and I was a little unclear what my medical records would show. Somehow there were documents from Glasgow Royal Infirmary, showing that I'd had surgery there. That was plainly wrong and Dr Adi knew it - she'd had referrals from Cornwall and had, briefly, seen an update from Derriford Hospital. I wish I knew who was rewriting my history, I might have a few suggestions.
Dr Adi had to have a look, naturally, and took another swab. No-one is willing to explain why I still have to wear a liner all the time. We agreed to see eachother again in two weeks, I also have a Gyno appointment for next week, that could be interesting.
The twins are due in town later tonight and everything was just perfect.
Then we heard that mum, Tara, was heading North.
Tammy's story continues in Tammy:Anchored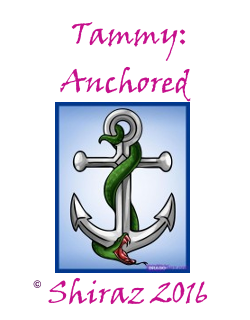 ---
If you liked this post, you can leave a comment and/or a kudos!
Click the
Thumbs Up!
button below to leave the author a kudos:
And please, remember to comment, too! Thanks.
This story is 2446 words long.