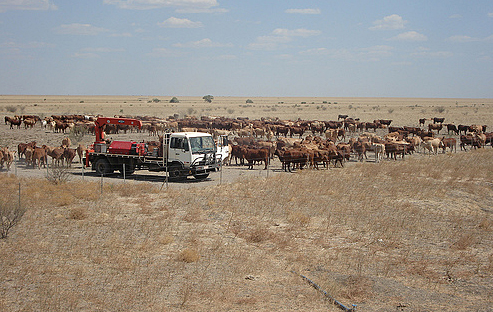 Land of My Heart
A novel by Bronwen Welsh
The sequel to 'A Foreign Country'



Chapter Fourteen   Charleville
Returning home from Ellen and Tom's this morning I spent the drive turning over in my mind the events of yesterday evening. I know that I haven't felt this way about any man since John died. It wasn't as if I'd gone looking for someone. I'd just happened to meet James and the sparks flew, at least they did for me, but did they fly for him too? I remember the old saying 'there's no fool like an old fool' and I wonder if it applies to women as well as men. There's also the question of the difference in our ages. Exactly how much it is I don't yet know, but I am acutely aware of the disapproval so often expressed when the woman in a couple is older. Add to that the fact that this particular older woman is quite wealthy and there is yet another reason for snide remarks to be made.
-----------------------------------
It's been three days since the dance, and I woke up this morning with a strong feeling in my mind that I must go to the library. I get these 'feelings' from time to time and I've learned to act on them. I haven't finished the Jane Austen, and it turned out the two other books I'd borrowed were not very interesting, so I decided to take them back.
There was only one or two people in the library when I arrived. James was behind the counter and his face lit up when he saw me, which made my heart flutter. You can't fake something like that look.
"I'm so glad you came in," he said quietly, "tomorrow's my last day."
"Already?" I said, surprised.
"Yes, I think Miss Marks is afraid of losing her job if she stays away any longer. She rang this morning and said she was on crutches but was quite sure she could cope, so it's back to Charleville for me."
I'm sure he saw the look on my face as I struggled to make some response to this bad news. I made a quick decision.
"James, I'd really like to see you again, that is if you'd like to see me of course,"
"You know I do," he replied softly, and checking that no-one was watching he laid his hand on mine where it sat on the counter. His touch was like an electric shock and I felt I was getting short of breath. I didn't want the connection to break but time was short. I reached into my handbag and pulled out a small notepad and pen.
"Here is my phone number," I said, "and if you lose it you can reach me at Mackenzie Station."
"I'll ring you as soon as I get back to Charleville," he promised. I wanted so much for him to kiss me, impossible of course, but then taking my hand in his he lifted it to his lips. It was all over in a second. I don't think anyone in the library noticed, but at that moment I didn't really care if they did.
------------------------------------
It's been two days since James returned to Charleville. I expected him to ring me the moment he arrived home as he promised, but so far I've heard nothing. Has he had time to think it over and decided that getting involved with an older woman is not really what he wants to do? It didn't seem like that when I last saw him at the library, but now he's had time to think about it......well who knows?
In the meantime I've done something I'm not totally proud about, but something I felt I had to do after the experience I had with Geoff the travelling salesman in Brisbane. James says he is single, but I had to be sure that he really is. One of the advantages of living in the country for many years and also of being married to John for most of those years, is that I have built up a large network of contacts, and it was to one of those contacts that I turned. My request was simple – 'Is James single?'
My contact called me this evening. When the phone rang, of course I thought it was James and my heart started to pound as I rushed to answer, but it settled down somewhat when I realised who my caller was; although the importance of the information I was about to receive still meant my heart rate was faster than normal.
"Yes, he is single," that was the good news. I was asked if I wanted to know more.
"No," I decided, 'I don't, in case I gave myself away when talking to him. I wouldn't normally ask for this information, but I've been deceived before and it was important for me to know."
"Do you want to know anything else about him?" I was about to say "No" when a thought struck me. "Well I'd like to know if he has a criminal history, that might be useful."
My contact laughed, "Maybe a parking ticket, but nothing else showing up here."
I expressed my sincere thanks for the information and concluded the call. Well that was good news indeed, although why such a handsome man should be single was a bit of a mystery, and I'm totally sure that he isn't gay.
James has rung me! It was only about ten minutes after my previous call, and now, sitting here after finally putting the phone down my heart is still pounding.
"Hi Lesley, it's James here," he began and already my heart rate was soaring.
"Hi James, did you have a good trip back?"
"Yes, fine, thank you," There was an awkward pause. I held my breath. Was he going to let me down lightly? Somehow I couldn't think of him being unkind.
"Lesley, I didn't ring as soon as I got back because I wanted you to have time to think."
Me time to think? I thought it was because he wanted time to think.
"Lesley, I'd really like to see you again...that is if you'd like to see me."
I hope I did not audibly exhale when I heard that.
"Yes, I would like to see you again James, very much." The last two words slipped out before I realised.
"I'm so glad," he said, "but the problem is I have to work."
"Well, I could come to see you," I replied.
'It's a heck of a long drive to Charleville from Hey," he said.
"Yes it's a long drive, but it's not such a long flight," I replied, "And I do have access to a plane."
He laughed, "There's a lot I don't know about you Mrs Brodie."
"There's a lot I don't know about you too, Mr Taylor, but it would be fun finding out more about each other don't you think?"
"I certainly do. Look, I have to work some Saturdays, but I have the coming weekend off, or is that too soon?"
"I can do that," I replied. "Why don't you book me into a hotel for Saturday and Sunday nights, and I can fly down Saturday morning and return Monday morning."
"I'll do that," he replied, "You must have a very accommodating boss at Mackenzie Station."
I wonder how long it will be before he realises that I am the boss? For the time being though, I think I'll keep that information to myself.
-------------------------------
Yesterday I told Jack that I was going to Charleville for the weekend and asked him to mind the Station until I get back. The great thing about Jack is that he never asks questions, he just says "Alright Boss", and that's it. Then I set about packing my suitcase.
This morning I was up early. I calculated my flight time, having told James to expect me about eleven o'clock, and soon I was airborne and heading east. The flight was uneventful and I touched down about five minutes before the hour, pleased with myself how accurate my calculations had been. As I taxied to my assigned parking spot, I could see the tall figure of James standing near the terminal building and I confess to a fluttery feeling in my stomach at the sight of him. This man has really got under my skin.
He walked over as I switched of the engines and performed my post flight procedures and was standing there as I alighted from the Cessna. I was pleased that he expressed no surprise that I had flown the aircraft.
"How was the flight?" he asked.
"Fine, and I was pretty good with my ETA estimate don't you think?"
He laughed "I'm very impressed."
James helped me with my suitcase – a rather larger one that I usually take with me, but I had decided to pack for all eventualities. I wasn't too sure what we would be doing, so I had spent several pleasant hours going through my wardrobes and selecting what I might need. One thing I had decided on was a suitable dress for the dinner James has promised me Saturday evening, and of course the appropriate lingerie and heels to go with it, even though I had made up my mind that intimacy was going to be limited this time. I want us to take it slowly and see where it leads. Things will be very different to my experiences with Geoff. That was sex, pure and simple, but with James I hope that things will develop in a different way. I don't claim to be immune to the obvious attractions of his body, but all in good time – that is assuming he wants it too.
"I've booked you in to the Hotel Corones," he said "Its definitely the best hotel in Charleville and I'm sure you'll be comfortable there. Do you want me to take you there now to drop off your case?"
"There's no hurry so long as my booking is confirmed," I said. "You did mention that you normally go to the football on a Saturday afternoon. Why don't we go there first? We can always get a pie for lunch and that won't spoil our appetites for dinner this evening. Will that be at the hotel too?"
"Yes indeed," said James, "I think you'll be impressed by their dining room. The building dates back to nineteen twenty-four and it's where all the wealthy graziers used to stay; it's even played host to royalty."
"Goodness me," I said "Well if its good enough for royalty it's good enough for me." and we both laughed.
As we drove to the sports ground, James told me that Charleville was playing Quilpie today.
"They're fairly evenly matched, so it should be a good game," he said.
We drove into the ground and found a spot where he could park the car facing the ground. The seconds were playing and Quilpie was ahead. Being a warm and sunny day we didn't want to stay in the car, so we walked around to the bar where refreshments were being served.
"G'day James," said a pretty young blonde behind the counter and she flashed a glance at me, not hostile but not overly friendly either. 'She's got her eye on him,' I thought to myself.
"G'day Shirl, two pies and two beers," said James, obviously choosing to ignore the unspoken question of who I was.
After collecting our food, we walked back to the car. James had brought a couple of folding chairs, and we sat there as the seniors started their game. It was a close match with each team scoring four tries and then ten minutes before the end Quilpie scored a try but failed to convert. Now the pressure was really on with Charleville doing their best to at least equalise, and finally they scored a try with one minute to go. The result rested on whether they could convert the try, and we held our breath as the player lined up his shot. He kicked truly and the ball sailed through the goal posts to a cacophony of car horns and flashing lights. In another minute it was all over and Charleville had won by two points.
A we drove out of the ground James said to me "I'm always amazed by how many women enjoy watching football."
I laughed. "All those fit young men in their tight shorts? What's not to like?"
James laughed in turn "Perhaps I should have kept playing a bit longer, but I retired about ten years ago."
"Well you still look pretty fit to me."
"I still go to the gym once a week. It seemed a shame to let myself go after all that training."
"Well it's working," I said and glancing at him as he sat beside me in the car, I suddenly wondered what he would look like naked and blushed at the thought which had crept unbidden into my mind. If James noticed, fortunately he said nothing.
James dropped me off, together with my suitcase at the Hotel Corones, and said he would be back for dinner at seven thirty which gave me over two hours to get ready. The hotel has maintained its classic vintage look – large rooms with high ceilings. James had booked me into one of the ensuite heritage rooms which contain period furniture and a very comfortable double bed. I felt like the Queen! Indeed I was reliably informed that royalty and famous film stars have stayed in those rooms.
I laid out my silk evening gown. It was slightly creased so I hung it in the bathroom while I spent a luxurious half hour in the bath, and the steam successfully took the creases out. In some ways I feel sorry for men. When they go out for the evening, all they have to do is have a shower and then put on their underpants, singlet, socks, trousers, shirt, tie, coat and shoes, comb their hair and they are ready. There is no sense of ritual about that. We women can spent a very enjoyable few hours bathing, doing our hair and make-up, dressing in our favorite lingerie, putting on stockings and heels and then our pretty evening gown. By the time we have finished we are feeling a million dollars and ready to enjoy ourselves. Oh well, perhaps that makes no sense to a man.
As arranged, by seven thirty I was sitting in the hotel bar sipping a cocktail when James arrived. He was wearing a dark suit, white shirt and a blue tie and looked great. I must say that the look on his face when he saw me was most satisfactory. To see the open admiration of this handsome young man was very good indeed!
"Lesley, you look wonderful," he said, and then looked slightly bashful, "not that you didn't look great this afternoon but....." his voice trailed off.
I laughed at his confusion "It's alright James, I know what you mean, and thank you for the compliment."
James ordered a beer and we sat and chatted for a while until it was time for us to go into the dining room. The maitre d', a tall dignified man with greying hair, advanced toward us saying "Good evening Mr Taylor, good evening madam," as he showed us to our table.
"Are you a regular here?" I asked James, after we had been supplied with menus and the wine list.
"No I haven't been here in ages, not since....the reason Harry knows my name is that he used to be my football coach. He's being formal tonight because you're with me." I picked up that slight hesitation and knew there was definitely something he wasn't telling me, but I decided to wait until he was ready.
The sommelier came to the table and after consulting with James left and returned with a bottle of Riesling, giving James a taste in the time-honoured tradition, and the wine having been approved, filling our glasses. I sipped the wine and nodded my approval. The the waiter arrived, and we chose salmon as an entree and decided to share a Beef Wellington. I have to say that I could not fault the service or the quality of the food – they were both of the highest order.
Much to my delight, there was a small dance floor in the centre of the dining room, and a trio of piano, bass and drums set up on a small stage in the corner. I had certainly been hoping to have the pleasure of dancing with James again and it seemed my wish would be granted.
After we finished our main course, the band had arrived and were into their first bracket of tunes. James asked if I would like to dance and I accepted with pleasure. To be in the arms of this gorgeous man once more was delight. We are both reasonably good dancers and as the dance floor was not crowded we even attempted a few more adventurous steps. When the band played a slow waltz, James held me close and I could feel his body responding to mine, and to be honest the response was reciprocated. I had already made up my mind, no matter how strong the temptation, that I would not be going to bed with James, at least not on this visit. There is much I still want to find out about him – especially why he is single. Unlike my brief fling with Geoff, I have the strongest feeling that James and I may become much more to each other than just bedfellows – delightful though that may be.
After our desert, coffee and liqueurs, and several more turns around the dance floor, I told James I was feeling rather tired after the full day, so it was agreed that he would come back in the morning to show me around the district. We walked to the foyer where we kissed goodnight, a gentle kiss on the lips, and then I went to my room. After undressing, putting on my silk nightgown and brushing my hair, I got into the bed and lay there for a while thinking how much I had enjoyed the day. Finally sleep overtook me.
To be continued
---------------------------------------------------
Image credit: Australian cattle station by Harris Walker reproduced under Creative Commons licence with attribution.
---
If you liked this post, you can leave a comment and/or a kudos!
Click the
Thumbs Up!
button below to leave the author a kudos:
And please, remember to comment, too! Thanks.
This story is 3089 words long.