Nena: Book 5
Special Request
by Maddy Bell
Copyright © 2008 Maddy Bell
All Rights Reserved.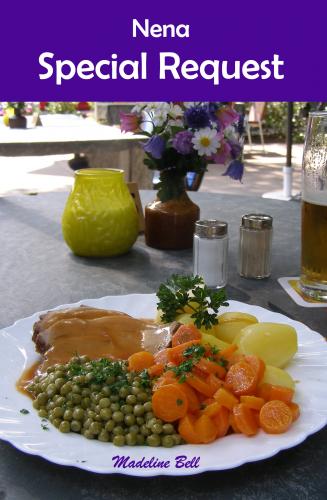 Part 2
   
"Sometimes I think you do it on purpose." Den sighed.
"I do not! Well okay I sort of volunteered on that Berlin trip but this time." Chris shrugged in resignation.
It hadn't taken long to check into their accommodation, which was actually a motel rather than a proper hotel; everyone gets a ground floor room at least. There's a breakfast room but no proper on site catering hence the forthcoming trip to 'Am Bahnhof', a restaurant half a mile away.
"What time are we due out in the morning?"
"The first stop doesn't open till ten and its only ten minutes or so up the road so I told Jonathon 9.30."
"We might just do it then." Den mused.
"Do what?"
"Get you organised as Nena."
"How're we gonna do that?"
"The town is only a few minutes away and the shops open at eight..."
"Anyone would think you enjoy this!"
"Well life is certainly interesting when Nena's around."
"Shush, they're on their way. We'll discuss this later."
Despite the long day of traveling our charges seemed pretty chipper as they re-boarded Tiddler to go eat.
You might have guessed by the name, the restaurant was situated in the old railway station and the room we were to dine in had started life as the signal room - it even retained the line board! The fare was adequate, after a day on the road I didn't think a big meal was a good idea so it was that eat German standby - schnitzel and fries! Everyone in the group seemed to get on well with each other and although some of the conversation was about digging holes a multitude of other subjects were covered before they retired back to the accommodation.
"Come on Chris, shake a leg!' Den admonished from the chalets doorway, "the bus is ready, lets go fetch the girl."
"Sure."
The day had the promise of being pretty nice, a touch of ground mist, a hint of breeze and a brightening clear sky above.
They'd already grabbed an early breakfast and the girl in charge had given them directions to both the main department store in the town as well as the local mini mall. It was going to be a tight run, two hours to not just transform into Nena but buy everything to do it too!
"I'll drop you near the centre, find somewhere for Tiddler and come find you, keep your phone on." Den instructed as they tackled the early morning traffic.
"Ok, this looks like the junction Sadie was on about."
"Best get off the middle door, see you in a few." Den commanded.
'Geez, why did I let myself get railroaded into this?"
Chris crossed the Ring and joined the stream of early shoppers and workers heading into Lüneburg centre. Sadie's instructions were spot on and he arrived at the Karstadt moments after the doors were unlocked.
Hmm, where to start? Previously Julia had been around to help or he'd only been looking to buy a couple of bits. This morning, apart from urgency, was different. On one hand there would be a couple of other 'shopping' opportunities so he didn't have to buy everything this morning but he would need at least a couple of outfits and of course all the other stuff like make up. Good a place as any to start.
It was a fevered shop, eyeliner, mascara, lipstick - no not that, something lighter, matching nail varnish, cleanser, wipes - ah a bag to put it in.....
...."Vier hundert siebsehn funf und neunzehn bitte."
Gah! That's anything I make this week spent! On the plus side there was a lot of stuff - he'd found a wig which would speed his changing up dramatically, there was a flight bag, undies, shoes - well the whole nine yards.
"Geez Chris, you bought the whole shop?"
"Only half, gis a hand with some of these bags."
"We're running a bit tight on time, its nearly nine already"
"I can change on the go."
"Lets get back to Tiddler first."
The walk to the bus wasn't as far as Chris feared, Den had spotted a coach parking zone almost opposite where he'd dropped Chris off, most of the time before he rejoined his colleague was getting back to that point.
"Fifteen minutes, then we'll have to set off."
"Cheers, and you'd best start calling me Nena."
There's one thing about the big German stores, they carry pretty much everything. One surprise bonus was the wig but another was finding some breast forms. Jules had often said that people see what they want to see and a bit of window dressing never hurt.
By the time Den pulled away from the kerb, Nena was there in person, she could do her makeup on the drive back to the hotel.
"Well?" Nena enquired as they approached the hotel, "think this'll do?"
Den looked over at his colleague.
"Nice, suits you"
"Watch out!"
Den returned his attention to the road just in time to miss the parked car.
"Er sorry but you can be a bit of a distraction kid."
In fact you could say that Nena was dressed for distraction - well to at least create one. From the platinum blonde bob to the modest casual shoes, Chris, well Nena now, looked all woman. If anything she looked more comfortable in the role than at any other time in the past.
Den pulled Tiddler into the courtyard where the customers were already gathered.
"Morning Dennis, we were wondering where you'd gone" Jonathan mentioned as the door hissed open.
"Fuel, and I had to pick up this young lady from the station."
"This is Nena?"
Nena had a bit of a panic attack, what did that mean? Had he seen through the disguise?
"This be she, Jonathan let me introduce Nena Ziegler, Nena this is Jonathan Brown."
"Morgen Jonathon, nice to meet you."
"And you Nena, my sources were wrong, you are far better looking than Kate Moss. Uh where's Chris?"
The comment made hi-er blush but she had come up with a ruse to get past that hurdle.
"He is heading towards Berlin, for me to be here for you he has had to cover my contract in Berlin, I work as a sightseeing guide in the low season."
"I'll have to thank him later, I never imagined he'd have to go to so much trouble for you to join us this week."
"You don't know the half of it boyo," Nena muttered in her head.
"Its not a problem, really." She smiled back.
"So are you folks getting on or what?" Den interrupted.
Jonathon stepped down and rallied his troops.
"I think he's smitten!" Den mentioned sotto voce.
"That's all I need."
Den chuckled as the first passengers mounted the steps.
"Güten morgen everyone, my name is Nena Ziegler and I will be your guide whilst you are in Germany. I'm not any kind of expert but from the itinery Chris and Jonathon have worked out it looks like you will have an interesting week. So in advance I must apologise for any mistakes, if you have any not archaeology questions I will try to answer."
Jonathon took the microphone from me and continued the pep talk.
"Thanks Nena, thanks again for agreeing to do the trip. Now this morning we'll start off at…"
Den poked Tiddler back out onto the road and we set off for our first stop with Jonathon going on about Beakers and burial mounds. Yep it looks like an interesting week. It was only a few minutes along to our first stop at a tiny village called Oldendorf. The museum, well it wasn't exactly The British, was in a converted barn in the middle of town, a neat timber and brick affair with a big sign proclaiming 'Archölogisches Museum'.
"Hallo, Herr Becker?"
"Ja?"
"Nena Ziegler von Global England, Chris Hornby sprechen?"
"Ah so, der Englisher tourist fahrt."
I sorted out the admission charge and as Herr speaks very little English I got to do a simultaneous translation of his welcome speech. Our audience seemed to be hanging onto every word, one or two I could see nodding with understanding before I made the translation so they weren't all ignorant of the German language. On the other hand I had to check a couple of times that my translation made sense – you can easily get lost in technical German!
The museum itself seemed smaller inside than out, a reverse Tardis, but my charges seemed to find it interesting, pictures and bits of stone seem to be a universal language. The visit was over in about thirty minutes, Herr Becker came out to bid us farewell.
"You are going to the Totenstedt?"
"Yes, can we take the bus to the parkplatz?"
"I think yes but the road is not so good."
"Well thank you for your time."
"The pleasure is mine, Friday's are generally very quiet!"
"Tschüss!"
"Wiedersehn."
I climbed on board and the door hissed closed.
"So?" Den enquired.
"He said there's space but the lane is a bit rough."
"We'll have a look then."
Betsy wouldn't have been very happy but Tiddler survived the rough track without too much bouncing about inside, the parking area was easily big enough to get our little bus turned about.
Well I can't say that I was that impressed by my first look at the site 'in the flesh' so to speak. My charges however swarmed over the clearing like some sort of hi-tec ants, pausing occasionally to take photographs or listen to Jonathon explaining stuff. One thing that did impress me was the size of these Hügelgräber – over 100m long some of them! The sky had clouded over while we were in the museum but it was at least still dry.
Jonathon seemed to have some experience in herding this bunch of people and we departed the Oldendorfer Totenstedt within a couple of minutes of our schedule. The next stop was barely ten minutes away, at least ten minutes after we returned to tarmac! Raven was to prove more typical of our visits for the day; park Tiddler up and then a few minutes walk to the point of interest – in this instance a single chambered tomb hidden amongst the trees.
The following stop, Rolfsen was something a bit different, Jonathon called it a Ring Cairn but it looked like some sort of Victorian garden feature to me. It was here however that the archaeologists started to show their sense of humour, one of the young couple, Stevie posing in the pit thing, a kissed or something, for some humorous 'Chad' type pics.
The next stop was to be more interesting. It being just after one, this would be our lunch stop, out in the wilds of northern Germany eateries are not abundant so I, or should I say Chris agreed to provide a snackette courtesy of Tiddler's catering facilities. Jonathon led his gang off to look at the piles of rocks while I got to break out the food.
"You want a hand?" Den offered.
"Please, can you put the cups out, I can pour straight into them then."
It wasn't exactly Michelin Star but microwaved soup and bread rolls followed by fruit and a choice of beverage was the agreed menu and even I couldn't muck that up too much. For once I was thankful that Bill had always gone for the full catering package – not that we usually did more than tea or coffee!
"That hit the spot." Graham, an older member of the party noted.
"Everyone had enough soup?" Den enquired brandishing the jug I'd used to heat the vegetable soup in.
"Hmm, plenty." Stevie answered.
"Yeah thanks Nena." Jonathon offered.
"No problem."
"So Nena," Stevie sidled up to me as I started clearing up, "you been doing this long then?"
"A couple of years now."
"You're English is really good, almost like a native."
Nosey moo!
"Er thank you, I went to England to study tourism."
"Ooh where did you go?"
"Nottingham, you know it?"
"Not per se. So how come you are working for a Yorkshire firm?"
I laid the German accent on a bit thicker, "from the course, I had a placement and after I was offered some work."
"Cool, it can be a bitch getting a new job."
"Sorry to butt in Nena, but we need to get going." Den inadvertently rescued me.
I'm gonna have to be careful with that one.
Maddy Bell 08.07.08
---
If you liked this post, you can leave a comment and/or a kudos!
Click the
Thumbs Up!
button below to leave the author a kudos:
And please, remember to comment, too! Thanks.
This story is 2137 words long.