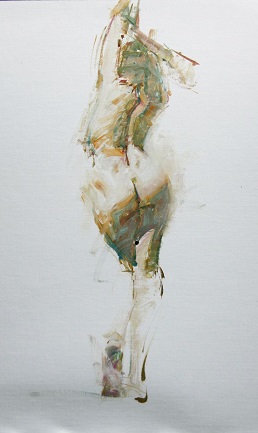 Andi and Allie Chapter 12
'Don't give up your day job…yet!'
Allie and I began photographing and cataloging the various pieces listed to go to the gallery. With only a few days till the showing we finally had most of the work done. The pieces were matted and the panels dry enough to be moved and the ceramics were wrapped, boxed and ready. Two days before the showing everything was moved over to the gallery. Bob, his assistant Ramon, Allie and I began the painstaking process of deciding what went where.
My showing went unbelievably well. For a first showing by an unknown artist it was nearly unheard of to have unanimously outstanding reviews. But my biggest surprise was at the amount of art that did get sold and the prices the pieces commanded.
The 'show' itself was great fun. Every art aficionado type was there…probably off of Bob's list of names. Then all of Allie and Jill's guests came and they proved to be a lot of fun. Even Peter invited a number of his friends and they came ready to purchase.
Allie stayed by my side nearly the entire time at my insistence. Firstly I wanted to promote her work and secondly, more importantly, I was scared silly at the start of things and her presences always provided a strong degree of comfort and security.
I dressed for this occasion very carefully and meticulously. Allie helped me every step of the way. We purposely went out and purchased an outfit to wear; something new and not in my normal range of style.
The top was sleeveless with a sloping neck and totally sequined in a chevron pattern of red, silver, and electric blue on a black field. The pattern was replicated on the back. We found a rather lovely pair of black leather pants that weren't cut in a typical jean pattern.
After much searching and nearly as much frustration, Allie finally convinced me to try on a pair of ankle boots with a two and a half inch heel; my first true heels! They were like the nineteenth pair of shoes we'd tried and Allie was ready to kill me. I was so obstinate and totally set against heels. That left out so many things that would have been perfect for the outfit.
I must admit that the ankle boots did look really great. They had silver heels and toe caps and the length of the pants fell perfectly to reveal only the hint of both. They were lace ups but I kind of found that to be a pleasant change from my usual slip on flats or kitten heeled pumps. Now I only had to learn to walk in them!
Just to make sure we both looked our best, Allie made appointments for us at the salon for the complete works; nails, hair trims, and cosmetic styling. I definitely wanted to look my best ever and Allie, who always looked amazing, managed to look even more amazing.
Thankfully the foundation and concealer, things that I never use, covered up the remains of my mistreatment at the hands of Steven. Whilst I was given the smoky eye treatment that was complimented with wine reds, Allie was the berry queen with soft pinks with varying degrees of blues mixed in. Allie's lipstick not only matched her nails, the shade also matched the berry colored silk gown that draped her body.
Jill arrived fairly early with a few of her friends. She immediately took control of the wine and cheese making sure that everybody, as they arrived, was greeted with a glass of wine. Her belief was that the more wine imbibed, the more people were willing to spend. She wasn't totally wrong and the better the people were dressed, the more wary she was to make sure their glasses were never empty.
Two of my teachers came, which was quite gratifying. They were duly impressed with what I had to offer and, after being reassured that indeed I was NOT transitioning, began to analyze everything that was right about each of my more 'important' pieces. They thought that what I had done with Allie's pottery was wonderfully fresh for an art form that is only slightly younger than cave paintings.
Peter arrived with a 'friend'. He immediately sought me out and greeted me with a hug and a kiss, which, as usual, sent a shiver throughout my body. Allie simply got a hug and she rolled her eyes and turned her head away when Peter turned back toward me. He put his arm around my waist and began to walk me along the wall as we spoke about what hung before us.
I never did find out the name of his friend but Allie did. Apparently neither of them could take their eyes off of us as we casually strolled very slowly along. Raoul, Peter's new 'friend', was evidently quite jealous when he discovered my 'little' secret and learned that I was not even thinking of transitioning. Of course Allie, with a giggle, didn't find it very difficult to impart that information freely to the somewhat perturbed Raoul.
Rhona showed up and proved to be one of the few friendly faces I could always count on to be by my side when anxiety visited. She spent a good deal of time with Allie, which I appreciated because everybody was trying to gain my attention; Bob most of all.
Every time one of Bob's guests would arrive, he would grab my elbow and literal drag me to greet them. Of course I realized that this was the money crowd, the buying crowd, and whatever Bob suggested they considered very seriously.
However that didn't make the exercise any easier. I mean it was fun speaking with different people and all but the selling part was…well…not exactly distasteful but certainly confusing? I mean… How does one appraise the value of one's art?
The single highest roller turned out to be Peter and I was quite surprised. He actually got into a bidding war over my painting of Allie that I entitled 'Bed Side'. Evidentially Bob's assistant neglected to price the piece and there were three interested parties. After some rather heated dialog and even more heated bidding Peter won out. Peter truly felt that the painting was a bargain if I continued to produce 'high quality' work and established myself.
In truth it was my favorite piece. I needed to ask myself what I really wanted to relate about Allie as she slept alongside of my hospital bed. This caused me to think of what I truly considered the essence of this woman, at least at that moment. I thought about the nature of the women in my life. And I wondered what it was about them that attracted me so very much.
After all, Allie, Jill, and Rhona certainly were three completely different personalities. There was no denying this fact. Yet there was something about all three that they shared in common, at least in their dealings with me. They were very protective. It was almost as if I was a child, and, in truth, perhaps I was. They would hug me to them when I was feeling the pressures of being in an adult world and they would try to sooth me.
To project this one step further, the hugging was almost as if they were trying to return me to their womb for safe keeping. That was the one place where baby was safe. Rhona had two children. Allie and Jill had none. Yet they both reacted in the same fashion as Rhona. I cannot recall my own mother ever acting in such a fashion but there are always exceptions to every rule.
I would guess that this is a female thing because men, or at least Peter, protected in a different fashion. Although I was certainly getting into the spirit of hugging with people in general, my first instinct when Steven assaulted Allie was to attack. I suppose that lent some credence to Andrew still lurking about in the shadows of Andi. And I would come to find that Peter, in a much less physical fashion, acted in a similar fashion.
Now my challenge with that painting was how to show this…this protective feminine mode…with a figure in a sleeping pose. What I did was to have my hand out palm up and one of Allie's hands beneath mine and the other hand on top. In covering my hand, the idea of protecting could be assumed. The lighting had to be dim for both figures to be asleep so the strongest ambient light focused upon the hands and Allie's face.
The scene was painted looking down over my shoulder so that only my arm and a portion of the bed that Allie rested her head could be seen. The light was from a night light over my head. The painting, I thought, worked wonderfully. Obviously Peter and several others thought the same to the tune of ninety six hundred dollars! Sacred feces…!
The showing was a financial and an artistic success beyond what anyone could ever have imagined. More than half the pieces were sold the first evening and by the end of the weekend, nearly all were claimed.
Allie, no doubt, added to the drama of the showing by standing alongside the nudes and portraits I had done of her, and imparting whatever little tidbits of interest had occurred during the sessions. She also accepted commissions for several joint work ceramic pieces.
An incredible review of the showing appeared in the Sunday newspapers that just made the entire experience so dream like. I mean this was the stuff I would dream about and never thought would ever happen though nobody seemed a bit surprised. I was now 'the rising star of the New York art scene'. I was in no way equipped to deal with that kind of thing so I sort of ignored it?
What really almost gave me a chubby was the check I received from Bob for thirty two thousand dollars. That was after his commission of sixty percent. That percentage is actually not uncommon for an unknown artist showing in a 'name' gallery. He wanted to rewrite our agreement immediately so that he might have an exclusive. I told him that Jill was taking care of all that sort of thing. I think I heard him actually have a bit of indigestion over hearing about Jill acting as my 'agent'?
Peter, of course, wanted to have first viewing of everything I did. He hated to pay retail and he even hated giving his money to 'that old queen', as he referred to Bob. I of course instantly agreed and told him that price could be worked out with Jill and I would tell her to be kind.
Allie was beside herself with joy. The entire weekend was like a never-ending wonderful dream for her. I'm not sure what proved to be the greater joy; her work being shown or my overwhelming reception. In either case she was so totally part of the showing that one would think it was her gallery.
However nothing compared to what happened when I showed up at home with my check and her portion of it. I decided to give her half of what the pottery fetched. Really it was the shape of the pieces and her touch that dictated what I painted upon them. Half came out to slightly over twelve hundred dollars.
Allie was literally beside herself, along with herself, and upside down herself. She was literally jumping and bouncing up and down as she clung to that check as if it was her first and last. Now I must be perfectly clear that twelve hundred dollars didn't cover her bra and panty sets bill. But it wasn't the money at all. It was that her art…her ceramic art…that fetched the price. Of course she wasn't beyond realizing that it was our joint effort that made the totality of the pieces. But she couldn't help bathing in the warmth of knowing that her effort was of some real value.
Christmas was just 'around the corner' and the town was already in the spirit. Allie and I spent several evenings after the showing putting together two formal catalogues; one of my pieces and one of hers. I didn't want to waste any time 'basking in the glory' of the showing. I was determined to begin working on new pieces while the spirit was still within me. I know what can happen when one takes a break after a showing of any sort.
Allies parents were conspicuously absent from the showing, which was curious. I know she didn't get along well with them but she still had periodic contact. She was invited for Thanksgiving but chose to spend it in the city with Jill. Of course I was a 'plus one' guest. Jill did mention that Allie customarily spent Christmas Day with them and that Allie would love to have me join her.
And so the partying began. I mean the entire city it seems; every business and, every other thing, simply had to have some sort of party. Ours was on the seventeenth at the private club of the company's president. He secured a private room and held a sit down luncheon complete with an open bar. I would have loved to invite Allie but, regrettably, her company party was on the same day.
I sat at a table with members of the 'creative team' from other areas of the company. Thankfully Rhona was next to me because Peter, who would have been excellent company as well, was at another table with some of the account executives. Several of them wanted to meet me and thankfully Peter had been referring to me as 'Andi' so that they weren't put off at all. Andrew was definitely absent from this affair.
I was hoping to meet up with Allie afterward but she had texted me that she was 'involved'…her emphasis…not mine…and she would be home late. I must admit that I was somewhat envious of whoever mister 'involved' might be. I was having these feelings…these desires…for her and I had no idea of how to approach her on this level; a physically involved level. Thank you mom wherever you are. Thank you dad, whoever you are.
I mean…well…it's not like I even knew what to do even if we were naked together. I think I simply wanted the intimacy of touching Allie; of gliding my hand over her body. Maybe I simply wanted to feel our bodies naked next to one another; touching, caressing, and embracing.
If she had a dick I'd probably try and suck it. With guys it's so much easier; even if they don't appreciate the act in the same manner as I do. I mean…what more intimate act can one perform on another than to take another's sexual organ in one's mouth? I think this is the ultimate in trust.
I'm not speaking of simply getting someone off but to hold that very sensitive and delicate piece of someone's physicality with the one orifice that all we are centers around. We speak with it and sing with it. We taste and eat and…well…do so many other things with it. Simply holding another's sexual organ in one's mouth precludes doing anything other than concentrating on that one act with that one person.
I thought I knew what I needed to do. I needed to stop doing nudes of Allie. I needed to put those erotic and sensual images out of my mind. Allie was becoming more than a mere muse. She was becoming an obsession. I would begin a new series of sketches…all with her being clothed. Oh…there could be a bit of suggestion…maybe an exposed thigh or cleavage…or even bared shoulders, but no nudity.
I needed to begin to think of her in other terms. When I would arrive home I would quickly wash and change. I would put on my working clothes…clean panties…with liner…and an over sized tee shirt that already bore the scars of color from previous use as well as baggy pants. I would sit in my studio, surrounded by the stench of the oils and spirits, and begin to sketch.
My first endeavor would become Allie throwing mud at her wheel. I knew exactly what I wanted to see the moment the thought of her bent over the wheel came to mind. Allie was incapable of doing anything without putting a piece of herself into the task. Her concentration was complete and she didn't even bother to look at her hands, or whatever tool was in her hands. Her entire focus was on the formless mass of clay that would begin to take shape, form, and 'life'.
So my emphasis would be on her face…her eyes focused on the object…and her hands. The true challenge was to link that hand-eye thingy that goes on and frame in within the context of her hands and the shapeless mass upon her wheel. Allie's hands needed to portray all the feeling and emotion that she felt about what she was working on. The true challenge was to make her hands express that emotion whilst partially obscured by the clay.
I quickly drew my thoughts onto the paper with the hard pastels. Once I could clearly see what I desired in my mind's eye, I removed that piece from my easel and began the next work; Allie examining a piece of pottery ready for the bisque firing. Again I wanted to capture her intense gaze as she examined the piece and the loving and delicate manner her hands caressed the dried clay, now with form.
By the time I heard Allie enter the apartment; I had managed to sketch nine possible works. I had no idea of the time. I kept no clock in the studio but I knew it was late, or early morning. I called out to her as I was covering the sketch on my easel and heard her reply as I was on my way to wash my hands and face. I doffed my tee shirt and pants as I left the studio and headed toward the kitchen after grabbing my robe from the bedroom.
Upon entering the kitchen I saw Allie grinning as I'd rarely seen before. Her arms were wrapped around her herself just below her breasts as I've seen women do forever. She spun around quickly, her golden loops of curls flying away from her head like an exploding aurora. She was more than happy; she was ecstatic. As I felt a sharp stabbing pain in my heart, I smiled, not wanting to even slightly blemish her spirit.
"Oh God sweetie… I think I'm in love." Allie squealed as she rush to me and embraced me. "He is the most wonderful guy I've ever met!" She spun me around with her and kissed me on the lips.
'Is that his dick I taste on your lips? Back up…let me see if you're dripping bits of him. What did he give you in token kind? Does he have your number…and I don't mean your phone number?' Not a single happy thought crossed my mind! All I had was visions of my mother returning from another one of her…'dates'. I felt like screaming at her, berating her, beating her, well, not really beating her. But all I could do was embrace her.
"I am so very happy for you." That's all I could say. I felt like running to the sink and barfing. "So tell me all about it."
I mustered all within me to at least sound excited. Allie broke away from me and spun around again.
"He was wonderful. I'd heard about him from some of the other women who said he was a player?" 'You FOOL...!' I thought. "But he came right up to me and began talking about all his plans and dreams and he asked me what my dreams were…" 'He meant your nightmares stupid!' "And he wanted to know all about my art? He was so interested in me."
Allie's eyes began to fill with tears of joy…mine with tears of sorrow.
"What does he look like?" I had to know.
"Oh my God…he is so…gorgeous! He's like the most…ever!"
I felt like I was back in high school listening to some girl go on and on about some guy she only just met.
"He's tall and has dark brown hair. And he has such beautiful brown doe eyes!"
Barfo…! But I nodded and smiled and tried to be excited for her.
"We had a drink at the party and he invited me out for another at this really nice little place near Lincoln Center. And we had a bite to eat. And then he asked if I'd like to come up to his apartment…"
It was at this point that I stopped really listening and realized that my smile was truly beginning to hurt my face. I mean really… How long can anyone be expected to keep up a false smile? I finally managed to extricate myself from this very…'trying' situation? Allie had finally talked herself out. I grasped the moment to stretch out my arms, yawn, and hug her as I whispered a 'good night' into her ear.
I went directly to my bedroom, kicked off my slippers, doffed my robe and slipped beneath the sheets of my bed. I stared up at the ceiling and began to silently cry.

Was that the sound of one shoe dropping? Or was it simply the thud of Andi's heart hitting the floor after careening off several walls, breaking an antique chair, and knocking over an original Tiffany lamp? Who will clean up the mess? The answer to these crucial questions and other even more pertinent ones to follow...

---
If you liked this post, you can leave a comment and/or a kudos!
Click the
Thumbs Up!
button below to leave the author a kudos:
And please, remember to comment, too! Thanks.
This story is 3750 words long.