Thanks to everyone who has contributed this month, we're only behind on one big bill and paying ourselves so we can keep doing this without taking other work. We're still short on the monthly goal as you can see in the right hand column. That shortfall comes out of the money budgeted to paying off the $30,000 in debt we've built up by doing this for nearly twenty years. Anything we get for the rest of the month goes toward that.
The info on how to send us a gift is below and in the column to the right. And thanks.
Thanks,
Erin
Use this link to send us a gift: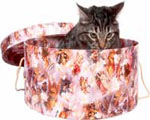 Use this link to subscribe through the Hatbox Membership page:
Checks can be made out & sent to:
Janglewood LLC
602 Higgins Ave
Suite 1 #283
Brielle, NJ 08730
USA
Note: $3000 is the operating, maintenance and upgrade budget. Amounts received in excess of the $3000 will be applied to long term debt accrued over the last 17 years.
Thank you!
Click Like, Love or Thank to appropriately show your appreciation for this post: